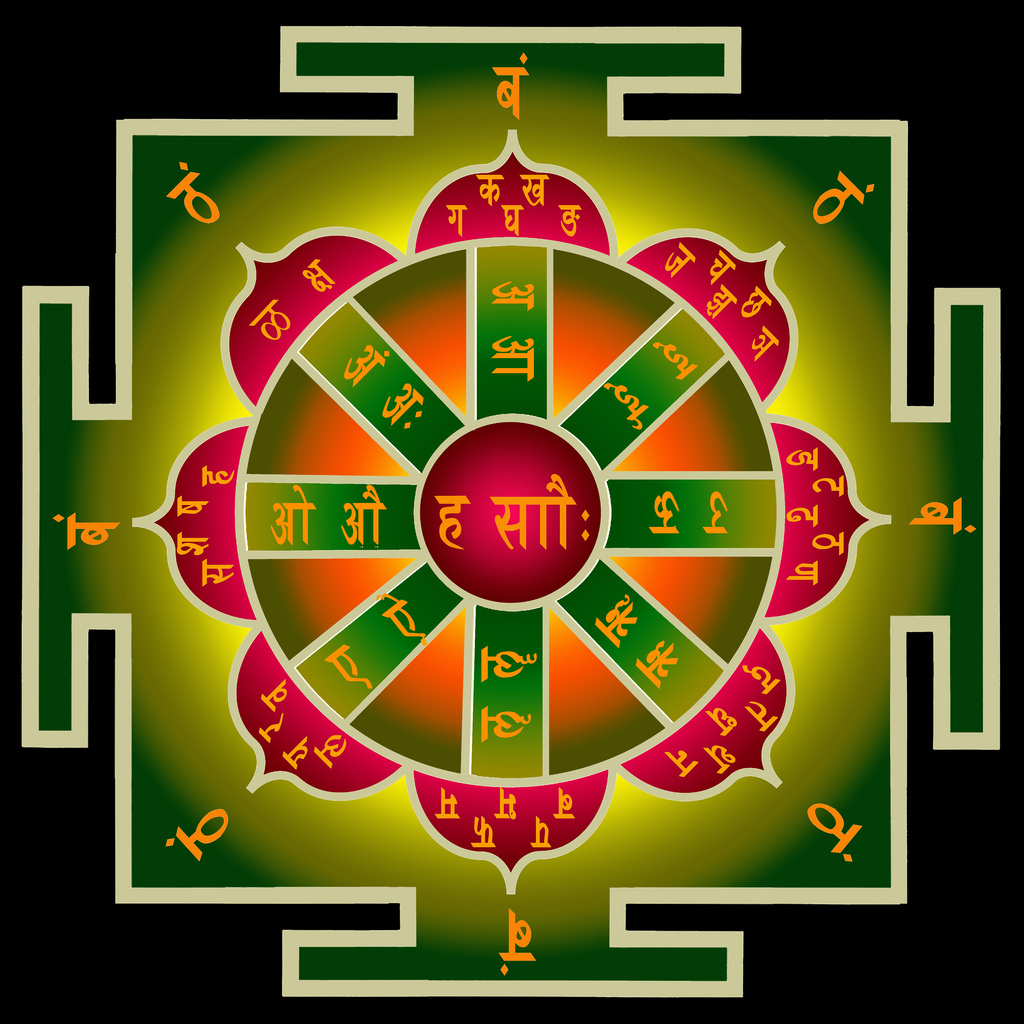 Matrika has 52 Akshar. An Akshar is that whose 'Ksharan' or 'Death' never happen. It means what ever word is spoken, it never dies but keeps on revolving in the Cosmos and can be regenerated from there. Out of all the Akshars 'Om!' is the best. apart from this, there are 14 vowels and 33 consonants.
Once there lived a Brahim in Mithila (part of state of Bihar). He studied all the different Vidyas (knowledge) for a very long time and became an adept in them. He got blessed with a son. But he studied only up to the level of Matriaks. His father tried to teach him many things but the boy never showed any interest at all to study. His father asked him again and again but the boy refused telling that there is no need to study anything more. His father was totally dejected thinking that he himself is a great scholar and his son is a total illiterate. One day when his father was pressing him hard to study more, the boy said there is nothing more needed to learn since all the knowledge of the world is inside the matriakas or alphabets only. On being asked by his father as to how,  the son replied as follows,
A-kaar is Brahma,
U-kaar is Vishnu,
M-kaar is Maheshwar.
The anuswar on the head of Om represent 'Ardh matra' which is the abode of Sadashiv.
The sixteen vowels from A to Au represents 14 divinities, namely, Swayambhu1, Swarochish2, Autam3, Raivat4, Tamas5, Chakshush6, Vaivast7, Savarni8, Brahm Savarni9, Rudrasavarni10, Daksh Savarni11, Dharm Savarni12, Rauchya13, Bhautya14, who represent 14 Manus.
Shwet1, Pandu2, Lohit3, Tamr4, Peet5, Kapil6, Krishna7, Shyam8, Dhumra9, More Pingal10, Less Pingal11, Tricolour12, Bahuranga13 and Kabra14.
Vaivast Manu is of the form of Ri-kaar and is black/dark hued.
Ka to Ha there are 33 divinities as follows,
Ka to Tha  represents 12 Adityas
(Dhata, Vidhata, Aryama, Shakra, Varun, Anshu, Bhag, Vivaswan, Poosha, Savita, Twashta, Vishnu)
Da to Ba represents 11 Rudras
(Kapali, Pingal, Bheem, Veerupaksh, Vilohit, Ajak, Shasan, Shast, Shambhu, Chand, Bhav.)
Bha to Pa represents 8 Vasus
(Dhruv, Ghor, Som, Aapah, Nal, Anil, Pratyush, Prabhas)
Sa to Ha represents 2 Ashwini Kumars.
(Nasatya and Dasr)
Anuswar represents Jarayuj (all those who take birth covered in an
Visarg represents all the jeevs who are born from eggs.
Jihvamooliya (those which are uttered from the base of the tongue) represent those jeevas who are born from the sweat.
Upadhmaniya(visarg which is spoken before 'Pa, Fa, Ba, Bha, Ma spoken from lips) represents those which grow out of earth like trees and creepers etc.
O Father, those who taking support of these divinities perform their work and duties achieve the ardhmatra of Sadashiv perform anushthan of these divinities.
Intellect is the woman which takes many forms. She takes many forms by taking up many subjects and things. Though with multiple forms, when it comes in contact with Dharma, it takes ONE form only. One who knows this, never goes to hell. Thus O Father there is nothing more to learn which I already know. Thus he made his father speechless…………Om!