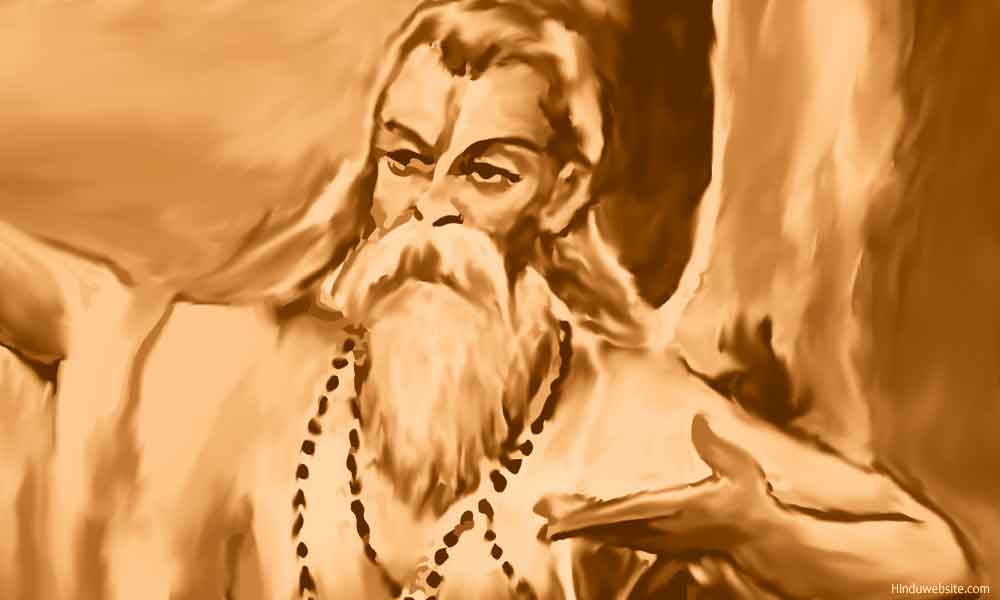 Many a time people question, as to who is a Brahmin? Is it sufficient to take birth in that lineage or anyone can be Brahmin without it? Not going into much details of the birth taken from a particular parents, certain qualities were essential in Brahmins. Though, by and large, Brahmins of ancient times did possess those qualities. In the modern times, everything is changing and corroding. It has become very difficult to uphold any kind of principles, what to say of Brahmanism.
Reflecting on the above subject, one came across this Upnishad, which discusses Brahmanism as per the lofty ideals of ancient Rishis and seers of past. Thus, without discussing it further, one would like to go straight to the point of this discussion with the help of the above mentioned Upnishad commentary. Generally, it is seen that all Upnishads always open with some sort of prayer. Hence this one also starts with the following prayer:
     Om!, May all my body parts, speech, life force, eyes, ears, power an all the senses be healthy. These all have been explained in the Upnishads as Brahm. May I not distance myself from Brahm, May Brahm not distance me from itself. Neither am I at a distance from Brahm and neither Brahm is far from me. May I imbibe all those Dhramas which have been explained in the Upnishads as essential for those who seek Atma or Realization. May such ideals be in me, be in me. Om! Shantih, Shantih, Shantih.
I prostrate to that Brahm, which is Sakshi to me, which is Sat-Chit-Anand, which can be known through Vedanta and is of innumerable kinds of forms of Brahm all around.  For the ignorant, it seems bad and corrupted, while for the awakened, who has an eye of knowledge, it is an ornament.
Four Varnas have been explained as per the Indian system of division of populace, namely Brahmin, Kshatriya, Vaishya and Kshudra. As per Vedas and Smritis, Brahmin is considered, best of them. Now the question that is raised here is, who this Brhamin is. Whether he is a jiva1, a body2, a lineage3, a knowledge4, a Karma5 or a Dharma6.
If at the start, we presume jiva to be Brahman then we know it cannot be. The Jiva moves through various bodies during its different births in the past, present or future. Despite moving through all those forms, jiva still remains same. Jiva is one but is known to take birth in different forms due to its karmas. Hence a jiva cannot be Brahman.
Is this body a Brahman? This also cannot hold true. From Chandal (a person who cremates bodies) to all the humans, bodies are made of same five elements and all of them experience childhood, youth, old age, death, dharma-adharma etc. It is not that brahmin is fair coloured, Kshatriya is red coloured, Vaishya is yellow coloured and Kshudra is black in colour. Neither by performing final rites of the father etc. a son gets dosha of Brahmhatya (killing of Brahmin). Hence a body cannot be Brahman.
Is a special varna or lineage Brahmin. This also is not possible because different Maharishis have taken birth from different wombs like Shringi Rishi came from deer, Kaushik Rishi came from kusha (a kind of grass), Jambuk Rishi came from jambu fruit, Valmiki Rishi came from a termite hill, Vyas came from the daughter of a ship guide (mallah), Gautam came from back of a hare, sage Vasishtha came from a divine damsel Urvashi, Muni Agastaya came from a pot. All these Rishis were not born in a particular lineage but were endowed with great knowledge right from birth, hence we cannot say lineage is Brahmin.
Is knowledge Brahmin? This also cannot be said to be true. Many Kshatriyas have been knowers of ultimate truth and they taught it to many too. Hence, we cannot say that only knowledgeable can be called a Brahmin.
Then, is it that karma (performed acts) is Brahmin? This also cannot be said because all the karmas of past (sanchit), present (prarabdh) and future seem similar and driven by them alone, all jivas act. Hence, karma can also not be called a Brahmin.
Is religiousness Brahmin? This also is not true because many kshatriyas, vaishyas are seen offering alms of gold and silver today. Thus only religious persons cannot be called a Brahmin.
Then question remains, who is a Brahmin?
One who is beyond the duality of Self or Atma, who is beyond lineage, attributes and Karma, who has not been corrupted by six kinds of Urmis and Bhavas, who is true Anand, endless, is not effected by anything, support of kaal (time), knower of all the elements, who is present inside and outside like ether, who experiences unbroken Anand, is boundless, is known only through Dhyan, knower of Atma like a fruit, in one's hand, though it is not seen, away from the impurities of physical attraction and attachments, equipped Sham and Dam, free of trickery of thirst and desires, one who keeps his Chit free of ego all the time, such a one alone is called a Brahmin. All the Shrutis, Smritis, Puranas and scriptures say like this. Apart from this, no other form of Brahmin can be proved. Atma is omnipresent, omniscient, is the enjoyer of truth, purity and Anand and is One, People who experience it like this are called Brahmin. Such is the teaching of this Vajrasuchikopnishat.
May the Lord be praised.
~Om! Shantih, Shantih, Shantih~