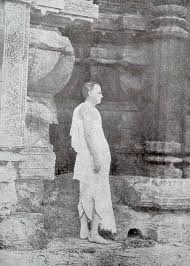 During 19th century state of Indian tantra vidya in the eyes of the world was extremely confusing. An English writer went to the extent that it is a figment of the contorted minds of people suffering from Malaria in Assam and Bengal. Even western educated people of the country at that time too were against this knowledge. All the western people were quite ignorant about the real meaning of the tantra. They use to say that all the practices of it are fruits of a deviant mind. Still the wise men who proved all this wrong were mainly western thinkers and scholars. Out of them, the name of judge of Calcutta High Court Sir John Woodroffe is at the top.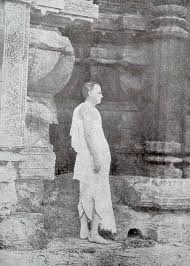 Sir John Woodroffe
Once he wanted to know certain details about Hindu scriptures. The translator in the court Harihar Shastri was quite overcome by the popularity of Pt.Shiv Chander Vidyarnav of Kashi. He thought that to clear the doubts of the respected judge this person would be the best. With his effort, Vidyarnav was brought to Calcutta in first class railway coach to Calcutta. Judge was learning Sanskrit from Shastri ji at that time. Shastri ji acted as translator in the court too. On Shivchandra ji's arrival in Calcutta, his meeting with Sir Woodroffe was arranged by Shastri ji. What ever judge questioned, Vidyarnav ji gave promp answers. He did not have to think even for a moment. Seeing his so much erudition, the judge was really impressed. From that time onwards many meeting between them took place.
One time when Vidyarnav ji was residing in the Bangali tola of Pataleshwar street, Sir John Woodroffe and Shastri ji came to meet him. At that time Vidyarnav ji was doing Devi poojan and by sign told them to wait as he can not get up without completing the poojan. To say such a thing to a white judge during that time was unthinkable. After completing his daily pooja only Pt.Vidyarnav ji met the judge. Judge also respected Vidyarnav ji very much and did take this delay as otherwise.
After returning to Calcutta, Sir Woodroffe use to send his deep questions regarding tantra and various slokas to Vidyarnav ji through letters. He also use to reply his questions through letters in Sanskrit. Thus the closeness of Sir Woodroffe with Pt.Vidyarnav ji kept on increasing and ultimately turned him into a Shakti sadshak.
When he met Vidyarnav ji for the first time in the Sarvmangla meeting of Calcutta, he had told Asst. Editor Darashi Gangopadhyaya that the moment he entered in to the field of Vidyarnav ji he felt touched by an electric current.A great pulsation started in the body. It felt as if the whole world is revolving and outer knowledge just disappeared. After a few moments, a form of maya beej/ ह्रीं appeared inside Om/ ऊँ written in a line of electric current in front of my eyes. I was bereft of speech and power to make any movement. At that very moment at the command of Vidyarnav ji, Shastri ji held me and made me sit. When I was talking with Vidyarnav ji, I felt great attraction towards him. After this first meeting great changes started happening in his life. On getting various sermons from Vidyarnav ji, he tried to meet many sidh yogis of that time and appointed many to interlocutors to inquire about such people with intention of finding a guru. Finding address of such a yogi, he along with Shastri ji and two other people went to Hardwar to meet this age old yogi. There he observed his many sidhis, got attracted towards him and wanted to become his disciple. On hearing judge's request for disciple-hood, he told him that he is highly impressed and happy seeing his ardent devotion towards spirituality but he is not his guru. There is already a knower of all scriptures and austere Guru near you. Though, he does not wear any sanyasi clothes but he is immensely knowledgeable, a Yogi and a sidh. Do not consider him to be ordinary person. He is just like Shiv. Go and become his disciple. Judge was extremely surprised that without telling him about Vidyarnav ji how can this man know about him. But still due to effect of western thinking he discussed it with his friends. He thought that how can that man be his Guru? So he did not pay much heed to the words of this age old mahatama. After some time getting a message form another person he came to Rishikesh. There he visited a Mahayogi and felt very happy to meet him. He saw his powers too and requested him to take him as a disciple. It was a great surprise when he told the judge if he is really interested in the deepest knowledge then he must not get impressed with these power showings. He is getting impressed by the outer play and not the deep inner wisdom, why is he getting attracted by all this. The one who can give him correct guidance, that Guru is already in his contact. He is not only full of knowledge but is a yogi of great order. Why is he keeping any doubts in his mind regarding him. From that day Sir John Woodroffe translated Vidyarnav ji's written 'Tantra Tattva' into 'Principles of Tantras'. In this context only one day he asked permission from Vidyarnav ji to write his life story. He replied that till now he has researched only on the Devi Ma himself, so why would the judge waste his time writing his (Vidyarnav's) life story. There will be nothing in it. On hearing this judge became silent. He wrote many books, namely, Shakti and Shakt, Serpent Power, Garland of Letters, Creation as explained in Tantras, Ishopnishad (Tantric explanation), Tantraraj Tantra, Hymns to Kali, Hymns to Goddess, Kulkundlini Nigam, Kaamkalavilas and Greatness of Shiv.
As a senior judge many may not remember Sir John Woodroffe but he earned the love and respect of Indians due to other things.He brought forth the prestige of ancient Indian culture. Before him, what to say of western scholars even Indian western educated scholars also looked at tantra in a very degrading manner. Gopinath Kavirajji in his talks one day said that if any one has done rediscovered the Kashmir Shaivism and Pratibhigya path from practical point of view, then that is done by Rameshwar jha and a person who did same for tantra is Sir John Woodroffe. When these words were said by Kavirajji, fortunately the writer was also sitting there.
Sir John Woodroffe was not only a scholar but was always involved in his deep spiritual practices as advised and taught by Vidyarnav Mahashaya. It is only his labor towards this end that even the scholastic circles of our society today have been attracted towards the depth of the tatnra philosophy. That also is because of Sir Woodroff. Even in western world the kindling of this interest is due to him alone.
By tasting the nectar of Shakti Sadhna through Vidyarnav Mahashaya, Sir Woodroffe got attracted towards India practices and philosophy. At home also, he would do sadhana of Jagdamba with few clothes. The statue which he used to poojan of was of Mahishasur Mardini astride a lion in gold. In India his photo in Indian clothing was printed along with Manishi Atal Ghosh.
Before leaving his body Vidyarnav ji used to live in his own village, Kumarkhali. When he became very ill, Sir John Woodroff got extremely disturbed on hearing the news. At that time he lived in the house no 4 of Kamak Street. He sent Shastri ji along with doctors to bring Vidyarnav ji to Calcutta. But devi devoted Vidyarnav ji did not leave his temple and never came to Calcutta. When Sir Woodroffe heard of his final leaving of the body, he started crying. Sir Woodroffe continued sending money for the poojan of the devi. When he went back to England he kept on sending the money for pooja to his son.
When later Sarvmangala Sabha which was established by Vidyarnav ji, heard of his demise they called a meeting to pay obeisance to him. When Sir Woodroffe was asked to speak a few words about Vidyarnav ji in that meeting, then besides with grief he could not speak even word. Press reporter Hemendra Prasad Ghosh printed the news in paper that day which I am reproducing below as it is –
'In the meeting for speaking regarding Vidyarnav ji, Judge Woodroffe because of final leaving of the body by Vidyarnav became so agonizingly perturbed that he could not speak even a word. Tears started flowing from his both eyes. It seemed that as if he has lost his mother and fatherless child. Seeing such a disturbed state none of the people in the audience could stop their tears too. Other speakers helped him sit back into the chair. After some time when he regained normalcy, he wrote something on a paper as his address and gave it to the meeting in-charge there.'
Whatever touching words he wrote on the paper, a translation of same is being given below –
'On the journey of this life direction less and restless I was wandering here and there. I was thinking who will give me a message of the right direction? In the absence of a live guru when one could not experience any stability anywhere in life at that time the one who became a light to remove the darkness and lighten up the path, who with his pure company brought peace to my perturbed mind and directed towards self evolution and made the life blessed, in the pure lotus feet of that Purushotam Rajrajeshwar Gurudev, I offer my faithful prostrations. Om! Shri Shri Guruve Namah.'
On seeing Sir Woodroffe's works, life style, his bhav, it becomes clear that whatever his contribution towards rediscovering, establishing philosophy of Tantra during 20th century was thereat the back of it there was teaching and inspiration of Guru Vidyarnav ji was the main cause. Being inspired by this great saint's teaching and life style, he assimilated Tatnra in such a way that he became an example for the Indian too.
After taking leave when he returned to England, regarding that what reporter Hemendra Ghosh of paper 'Patriot' and Ravi Mitr, IAS working in the 'Vasumati' magazine brought out by younger brother of Yogiraj Arvind Virendra Ghosh told, is given in brief below –
Ravi Mitr was Home Secretary. When during his study of law he went to England he visited Sir John Woodroffe. There he saw that all around on the walls in judge's chamber, all the walls were were adorned with were beautifully framed photos of Ten Mahavidyas, Gayatri, Tridev, his Guru Shiavchandra Vidyarnav. Photos of Ramakrishan, Budh and Chaitanya were also hung.
Mitr was stunned to see all those photos there. During discussion, Woodroffe told him that when inside the court working on difficult cases he feels tired, no principle seem to hold ground, in that disturbed position many times Gurudev appeared before him. Many such events were shared with Mitr by Sir Woodroffe.
This thing happened in the room of his house too. While explaining such incidents, his eyes will brim with tears often which amply pointed to his great bhakti towards his guru. It is very sad that the knowledge and memory of such a great man his guru is fading in the populace. Remembering his contributions Gopinath Kaviraj ji exclaimed that it is due to the effort of such a mahapurush only today the real meaning of Tantra has been established in its resplendent form today in the world. What ever misconceptions were there about it has been almost removed from its roots.